Retire in the comfort of Camelot. Reserved for the young at heart!!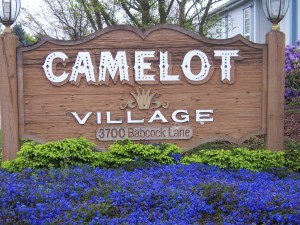 Camelot Manufactured Home Village is a five star retirement community for 55 and older, in Eugene, Oregon. Tucked into the northeast corner of the city with the beautiful Coburg Hills as a backdrop, Camelot is conveniently located near shopping areas and services. The Gateway Mall area with its many stores, restaurants, banks, service stations and post office is minutes away. Close by, to the west, is the Coburg Road area of Eugene including grocery stores, banks, restaurants and shopping areas. Just 2.5 miles to the east is the Sacred Heart Medical Center & Hospital at Riverbend in Springfield.
Camelot is a gated neighborhood on private property which gives residents an added sense of privacy and community.
Camelot Village sits on 25 acres of flat land bordered by Sheraton Drive. To the east of the property across Interstate I-5 is Springfield, Oregon. The Village contains 155 spaces most of which range in size between 4,600 sq. ft. and 5,400sq. ft. Within the Village only new homes have been allowed, all double or triple wide with pitched roofs. Pleasant and coordinated landscaped appearance is required from each home owner.
At this point in time, our newest phase, Cottages@Camelot, which  has been designed exclusively for ideabox llc manufactured homes, has five lots available.  In the main part of Camelot all lots are full. Houses are periodically for sale by owner.
The Village contains spacious green ways, gardens and a centrally located recreation hall, including banquet & meeting facilities, large sunroom w/ dance floor, relaxing and TV area, exercise room, swimming lap pool and hot tub. The Village entrances have rolling security gates which generally close at 9 PM and open again around 6 AM.
By policy, all homes in Camelot should have one resident who is 55 or older. Small house pets are allowed if they are individually approved by management. Pets are kept in the confines of the owners' homes – they may not be off leash in the village.
All homes have driveways and either garages or carports. Home spaces are leased for a standard 5 years with automatic renewal assuming residents' qualifications.
On-site management is readily available on a daily basis.
Camelot Manufactured Home Village is owned and operated by the Babcock Family (Camelot Babcock, LLC).